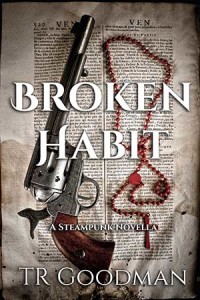 My fantasy / steampunk novella Broken Habit is now available as a standalone on Amazon!
It appeared originally in the Central Washington Authors Guild anthology Assassins, along with several other excellent stories. Click on the cover (I made it myself; so pretty!) or the link below to check it out.
Sister Estella Porras has served the Order of Aramina for many years not only as a nun, but as a secret hunter and assassin tasked with cleansing the world of demons.
When she discovers that a powerful demon has not only infiltrated the Order, but gained a position of great influence, she is the only one capable of ending that threat before it can destroy everything she believes in.
With the High Matriarch's airship due to arrive any day and the entire Order hunting her for a murder she did not commit, will she be able to challenge the demon, or is she doomed to remain the prey?